Veeam Endpoint Backup

Endpoint backup, recovery and management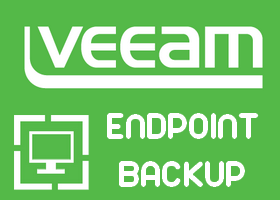 Overview:
Veeam Endpoint Backup provides a simple solution for backing up Windows-based desktops and laptops. With Veeam Endpoint Backup, you can easily back up your PC to an external hard drive, NAS (network-attached storage) share or a Veeam Backup & Replication repository. And if your system crashes, hard drive fails, or a file gets corrupted or accidentally deleted, you can recover what you need in minutes - like it never even happened.
Fast, hassle-free backups
Veeam Endpoint Backup is the perfect solution for scheduling automatic backups of your entire system or the specific volumes and folders of your choosing. Or, if the need should arise, you can run standalone full backups as well.
Backups created with Veeam Endpoint Backup can be saved to one of the following locations:
External storage devices (e.g., USB hard drive)
Network shared folder
Veeam Backup & Replication repository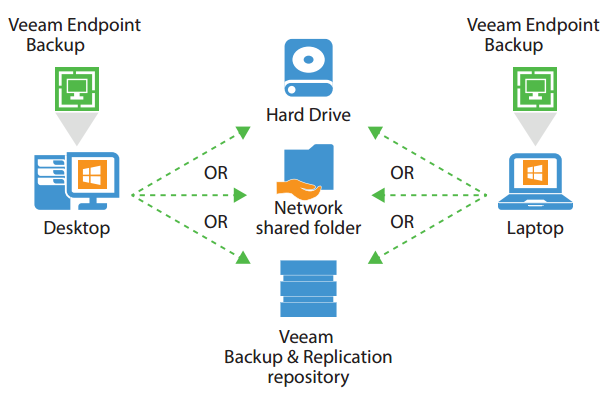 After an initial full backup has completed, Veeam Endpoint Backup FREE performs incremental backups - copying only new or changed data blocks since the last backup cycle. This, combined with built-in compression and deduplication, means your backups will be fast and use as little storage as possible.
Veeam Endpoint Backup is Windows 10 Compatible
Upgrade your Windows-based laptop or desktop with confidence - Veeam Endpoint Backup has been certified by Microsoft as Windows 10 Compatible!
Free Windows backup for desktops and laptops
Even in today's highly virtualized environments, endpoints (i.e., desktops and laptops) will always remain physical and need to be backed up. But since many endpoint backup tools on the market are either expensive or ineffective, what's the best solution?
Just like in the virtual world, backups are really all about recovery. Veeam has created a powerful, easy-to-use and solution that makes endpoint backup a breeze, while making recovery flexible and effortless.
Features:
What's inside - Backup features
Veeam provides fast, image-based backup that is done at the block-level for full and volume-level backups, and on the file-level otherwise. With true incremental backup, only blocks changed since the last backup are copied, making volume-level backups extremely efficient when processing changes in large files. Backup options include:
Full backup: Get image-based backup for your entire PC while automatically excluding unnecessary files, like the Recycle Bin contents, temporary and page files
Volume-level backup: Utilize block-level backup for selected drives or volumes on your computer (e.g., system volume, data volume, etc.)
File-level backup: Choose individual file masks and folders to back up; the built-in wizard helps you quickly include standard system folders and personal files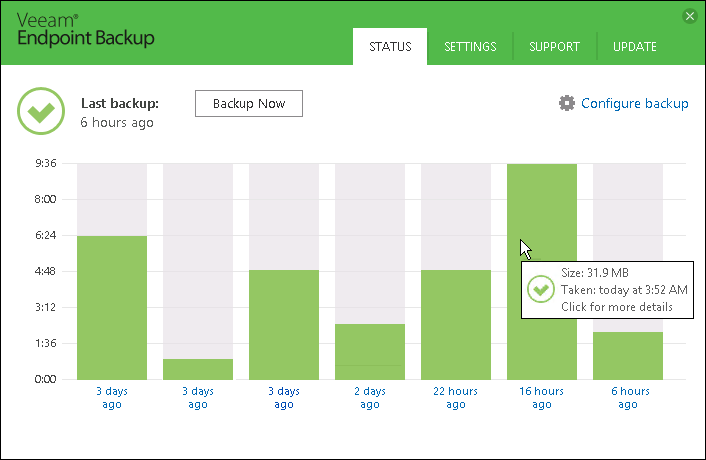 Backup options
Veeam Endpoint Backup FREE also helps optimize backup performance through:
Flexible configuration: Create file masks to include or exclude specific file types from your backups, define retention periods, backup schedules and estimate backup file size on the fly
Scheduling: Trigger backup jobs based on specific events, such as when backup storage is connected, when PC is locked or when a user logs off; it's smart enough not to start a backup more often than needed
Backup throttling: Reduces the priority of the backup job process if the PC is busy with other tasks
Recovery Features
Recovery options
Veeam provides you with several easy-to-use recovery options-all from the same image-level backup. Options include:
Bare-metal restore: Restore your entire system to the same or different hardware
Volume-level restore: Restore a failed hard drive or corrupted partition
File-level restore: Restore individual files from ANY backup type in minutes!
Bootable recovery media
Veeam Endpoint Backup lets you create a recovery image of your computer on several different kinds of media, including:
Removable storage devices (e.g., USB flash drives, SD cards, etc.)
CD/DVD/BD media
ISO image
The recovery image provides an alternative way to boot your computer. If the OS installed on the computer fails to start for some reason, you can boot the OS from the recovery image and leverage the included recovery tools.
Built-in recovery tools
Veeam Endpoint Backup includes proprietary diagnostic tools as well as some useful Microsoft Windows diagnostic tools to help you troubleshoot issues and accomplish advanced administration tasks, including:
Reset password: Reset the password for the built-in administrator account
Startup repair: Fix system problems that might prevent Windows from starting (e.g., missing or damaged system files, corrupted boot sector, etc.)
Memory diagnostics: Check the system memory of your computer and detect potential problems after the next system reboot.
Command prompt: Start the Microsoft Windows command prompt (cmd.exe)
And MORE!
Integration with Veeam Backup & Replication
If you're using Veeam Backup & Replication in your VMware vSphere or Microsoft Hyper-V virtual environment, you'll be able to take full advantage of Veeam backup repositories as target locations for your Veeam Endpoint Backup jobs, which are stored in a separate folder for each endpoint protected. While working within Veeam Backup & Replication, you'll also be able to:
Restore guest files and application items from endpoint backup files with Veeam Explorers for Microsoft Active Directory,Exchange, SharePoint and SQL Server
Export physical disks contents from backup into VMDK/VHD/VHDX virtual disk files
Get basic monitoring and management for all incoming backups, including email notifications about endpoint backup status
Get endpoint backups off site to disk, tape or even the cloud with backup copy and backup to tape jobs
Encrypt endpoint backups stored in Veeam backup repositories
Assign end-user permissions to individual Veeam backup repositories
Apply traffic throttling settings to Veeam Endpoint Backup jobs
What's New in Veeam Endpoint Backup v1.5:
Veeam Endpoint Backup 1.5 delivers all-new functionality to give you faster backup performance, greater visibility and control over backup job progress and schedules, and it even helps isolate your PC and laptop backups from malware attacks.
Veeam Endpoint Backup 1.5 includes:
CryptoLocker protection for USB Storage: Protect USB-based storage targets from potential CryptoLocker threats by automatically ejecting them after a successful job run
Email notifications: Configure email notifications by typing only your email address, keeping you connected to your laptop backup history without the need to open the Control Panel
New scheduling options: Meet any custom endpoint backup scenario by setting backup jobs to run on a specific day of the week. New logic can also identify when a scheduled backup is missed and starts an additional backup once the computer is powered on
Standalone full backup: Save standalone full backups to any location at any time via the UI
Backup engine tuning: Get faster file-level backup performance, better exclusion logic, and the experemental ability to skip bad blocks to ensure hardware or software problems do not affect PC and laptop backup jobs
And more!
Supported Environments:
CPU: x86/x64 processor
Memory: 2 GB RAM
Hard disk: 150 MB free disk space for product installation
OS: 32- and 64-bit versions of:

Microsoft Windows 7 SP1 or later
Microsoft Windows Server 2008 R2 SP1 or later
Documentation: