Veeam Managed Backup Portal for Service Providers

Accelerating delivery of backup services (including BaaS)
Overview:
Veeam Managed Backup Portal for Service Providers makes it easier than ever to provide a managed backup service and build (or add) a Backup as a Service (BaaS) revenue stream.
Available in the Microsoft Azure Marketplace, this FREE solution streamlines delivery, invoicing and reporting of Veeam-powered managed backup services for service providers, including resellers looking to provide a managed backup solution.
A service provider business-in-a-box
Businesses of all sizes often find themselves short on resources and launching a new managed backup service business is no different. In addition to your IT infrastructure, whether you build it or leverage a public cloud like Microsoft Azure, you will need a few necessary tools to get started - a billing process, remote backup monitoring and management capabilities, and a tracking, invoicing and reporting engine to stay on top of your business and your customers.
Veeam Managed Backup Portal for Service Providers provides a FREE business-in-a-box, so you can launch a successful Veeam-powered managed backup solution.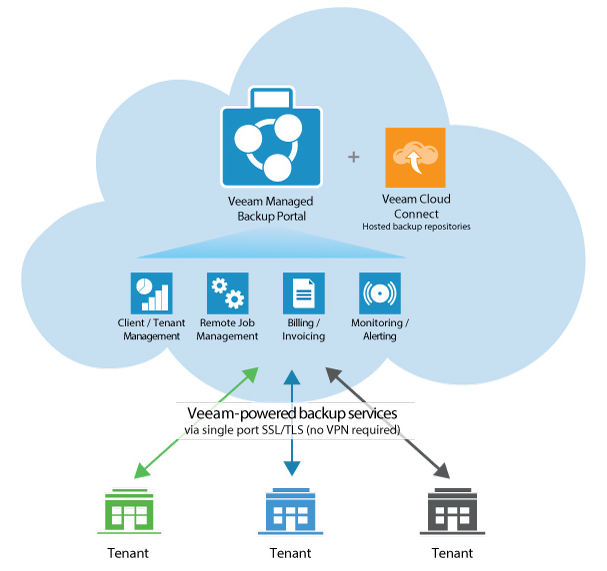 Extending services with Veeam Cloud Connect
Veeam Managed Backup Portal for Service Providers is tightly integrated with Veeam Cloud Connect Backup for Service Providersso that you can not only remotely monitor and manage your customer's backup infrastructure, but you can send their backups to your hosted backup repository.
In fact, Veeam Managed Backup Portal utilizes the Cloud Connect gateways for the single port SSL/TLS connection, although it is not required that you purchase Veeam Cloud Connect to utilize Veeam Managed Backup Portal.
Veeam Cloud Connect is a well adopted and innovative multi-tenant cloud platform that is designed to support, enable and promote service provider adoption. It makes it easy for service providers in the Veeam Cloud & Service Provider (VCSP) program to offer hosted backup repositories, managed backup services and Disaster Recovery as a Service (DRaaS)3 with Veeam.
License keys
Veeam uses a "bring your own license" (BYOL) to Azure model.
Once you become a member of the VCSP Program, you will be able to acquire a FREE license key. You will then receive an email with your key, which can be cut/pasted into Azure.
Becoming a member of the VCSP Program is required.
Features:
Simplified customer on-boarding
With a built-in service provider portal, creating new customer accounts, provisioning services, and even managing customer billing and invoicing will be easier than ever!
One of the biggest challenges for a service provider is billing. Instead of integrating multiple solutions together, or crunching numbers manually in Excel, Veeam has included out-of-the box billing management functionality.
Remote backup monitoring and remote management
Maintain complete visibility into your customer's backup environment from within one powerful, easy-to-use UI.
Remote monitoring and management of your customer's backup and backup copy jobs is a breeze, and all customers can be remotely monitored and managed through a single port over SSL/TLS (no VPN required).
Your IT engineers will have more time and resources to do what they do best - pro-actively manage the customer backup environment while remaining focused on growing the business.
Multi-tenant customer portal
Your customers remain engaged with their own customer portal, which you can brand with your company logo.
You can also provide your customers with basic self-service monitoring and configuration to keep those common phone calls or repetitive support tickets at a minimum.
With the built-in multi-tenant customer portal, customers can set-up additional users and locations, monitor their own backup health, review cloud repository consumption and manage their monthly billing statements. Customers can maintain confidence in their managed backup service availability with their own view into how well their environment is protected and how prepared it is to cope with a potential disaster.